SKU :
7472-3
Description
The 'Quick Ship' Triteks come in standard and extended sizing for big and tall seating. The full range of Tritek is designed to accommodate as many body sizes as possible by offering a choice of seat cushion sizes, a choice of backrest sizes to suit an individual's tasks and a choice of mechanisms needed by the user to comfortably perform his or her tasks. 24 hour/multi-shift models are also available.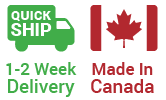 Price
| | | |
| --- | --- | --- |
| 7482-3 | High Back Multi-Tilter with Standard Seat | $920 |
All prices are subject to change and will vary depending on the features selected. Delivery and shipping are not included.
Finishes
Black Fabric Seat and Back (Terrace Echo TC74)
Black base
Specifications
Multi-Tilter Mechanism
Adjustable 'Schukra' Lumbar Support
Height and width adjustable arms
Armcaps Rotate and Slides For, Back, Left and Right
Medium, High, and Extended back options
Small, Standard, and Generous seat options